Emagination Computer Camps Offers New Minecraft Workshop
Emagination's new summer camp technology workshop allows kids to play the world-building game Minecraft and collaborate in vastly creative ways. Emagination finds that utilizing video games in the classroom can spark positive development in children's minds.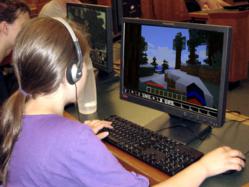 Emagination Computer Camps, a national operator of summer technology camps, is offering a new technology workshop focused on the popular game Minecraft. Camper registration is available at ComputerCamps.com.
Minecraft is a sandbox game where players explore, create and build things out of textured cubes in a 3D world. Reminiscent of Lego kits, players have access to a virtual world where they can roam freely and design any number of architectural structures. Minecraft is both creative as well as collaborative, and with no rules or limitations, kids are in complete control.
There are two ways to play Minecraft. In survival mode players accumulate various resources to maintain their health. Creative mode is less structured but players have an unlimited supply of resources. Minecraft is an open world game, so there are no specific goals to accomplish and there is an incredible amount of freedom in how kids choose to play. The purpose of the game is to explore and build.
At Emagination's summer computer camps, campers will work together to build 3d environments on a secure server and achieve goals together. Minecraft is an application that encourages cooperation and teamwork which are values that Emagination strives to instill in its campers. Through Minecraft, campers will collaborate and engage each other as they strategize their building projects. They can be inspired by each other's creations and take pride in their contributions within a supportive community. Innovative ideas will fuel plans to create and produce buildings, castles, ships, hot air balloons, and more.
As kids become more fluent with technology, the line between gaming and learning is blending together. School teachers are utilizing Minecraft's world building functionality to educate kids in the classroom. Minecraft has the ability to be a powerful teaching tool and can cover topics such as probability, physics, history, math, and foreign languages.
"We offered a workshop in Minecraft at one of our camps last summer and it was wildly successful so this year it will be offered at all camps," said Craig Whiting, Executive Director of Emagination Computer Camps. "Minecraft brings a nice balance of technology learning and fun and it teaches valuable skills in teamwork and cooperation," he added.
About Emagination Computer Camps
Emagination operates summer technology camps for children on college campuses in Fairfield, Connecticut and near Atlanta, Boston, Chicago and Philadelphia. Emagination offers over 20 technology workshops including Minecraft, 3D Animation, Digital Music, Web Design, Video Game Design, Mobile Game Design, Programming, iApps, Robotics, Radio-Controlled Cars and more. Since 1982, Emagination has served thousands of children by blending the latest in technology learning with cool non-tech activities to create a well-rounded summer camp experience. Kids and teens who love technology come to Emagination from across America and internationally.